Best place to shop online for baby food is Asda, shows report from e.fundamentals
Our latest Baby Food category report 2020 compares the online offerings of the UK's major retailers against nine influential shopping criteria and shows how brands can improve their performance on these sites.
Our research has found that Asda is the best place to shop for baby food online in the UK.
Asda came top in the analysis due to it having the widest choice of baby food products, combined with its regular and deep promotional discounts on baby
food. The Asda website is also a top performer at returning the most relevant baby food search results to shoppers online. Ocado, Tesco and Morrisons came
in second, third and fourth respectively in the overall analysis.
The report shows the most flexible delivery options are offered by Sainsbury's and Tesco, with same-day delivery and click-and-collect available, providing shoppers with the best 'last-mile' convenience.
The Boots website is the highest-rated for baby food by shoppers, while the Superdrug site is identified as the easiest to navigate.
For the report, e.fundamentals assessed UK online retailers against nine important criteria that influence parents' purchases of baby foods. These included price, promotional activity, product range, delivery options and website performance.
Shopping for baby food online – retailer rankings overall and by criteria

Highlighting eCommerce optimisation potential for brands
The analysis also shows areas that are ripe for improvement on retailers' sites, such as search algorithms. When searching for 'Baby Food' on the Amazon site, half of the products returned on page-1 are not baby food, which can confuse and frustrate shoppers and ultimately dent sales.
The report also shows that eCommerce represents an effective channel for brands to compete with discounters' special buys, by using bigger packs to attract shoppers seeking to bulk-buy baby food staples – especially through Amazon.
Our e.fundamentals' insight manager Helen Thomas explains: "The report combines market analysis with advice that brands can easily take up - whether their strategy is aimed at attracting more shoppers to the baby food category, or encouraging a higher weight of purchase."
"On a practical level, we advise brands to make sure their products are tagged to the right shelf and category, so shoppers can easily find their regular purchases and discover new products."

"In addition, having products in multiple categories – such as ambient, frozen or chilled - is a great way for brands to reach more shoppers. But emerging ranges need to be well signposted to disrupt habitual purchase."

"We also found that premiumisation is driving growth in baby food sales, influenced by innovations in packaging – like added convenience from pouches – and new complex flavours."
Download the full report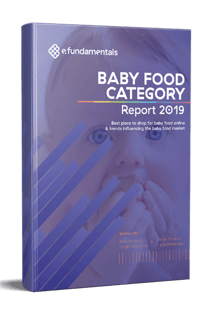 In the UK, the Baby Food category is worth £500m and is expected to grow to £575m by 2023. The e.fundamentals Baby Food Category Report 2020 shows both the best places to shop for baby food online and the trends influencing the baby food market. The report is available free. via the form below.